---
WASTELAND SUMMERFEST 2019 – Saturday July 6th

Dive into the festival's Post-Apocalyptic theme and dance like there is no tomorrow! Summerfest is
created for those who dare to be who they want to be… celebrating freedom!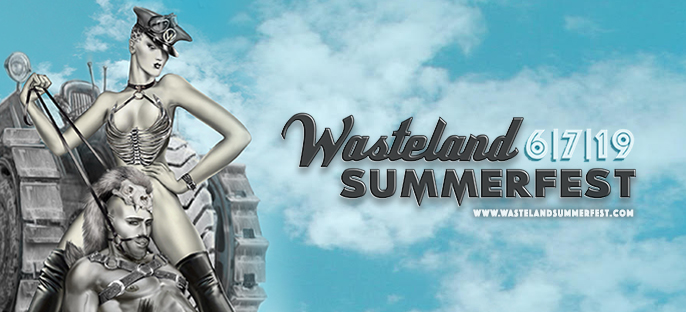 A Saturday full of extraordinary live entertainment, art spaces & vehicles and spectacular shows by international performers. Circus performances, fire shows, dancers, contortionists and much more, featuring renowned DJs playing multiple genres of music on different stages
Location: Thuishaven, Contactweg 68, Amsterdam, Netherlands
Time: 13.00 till 23.00 hour
Price: 42,50
Early bird: 30,-
Ticket salew starts January 5th
SHOWS
Krien Jozeph & Merante Tamar, Mere Dragon (FR), Dani Divine (UK), Nolwenn Pyroboobs (FR), Jaded Jewall (DE), Wasteland Warriors, Olifanttakeover, Ropemarks, The Puppeteer, Styling Station, The New Tantra, J.F. Mougenot (FR), The fuel girls (UK), The Vipers Squat, and much more

DJ'S
Michel de Hey, Jam El Mar / Kitkatclub (De), Wouter S, Maringo / Kitkatclub (DE), Hansom / Rapido, Steve Hunter / Kitkatclub (DE), Lucien Foort, RW / Rapido, Funkerman, Jody Lynne, Mirella Kroes, Clark Kent / Kitkatclub (DE), Killian Sawn, Saeed / Rapido; Carlos Valdes, Sjeazy Pearl, and many more …
VISUALS
Run Pain Run
DRESS CODE
As the festival will be held in July, dress code guidelines are adjusted to the summer season. We're allowing fabric for this event but make sure to add a Post-Apocalyptic twist into your outfit and express your personal fetish! For the ones that need help with their transformation we offer a styling station to turn you into a Post-Apocalyptic Maniac… The decision of the bitch is final!
Dress code Inspiration: Post-Apocalyptic Warrior, Mad Max, Body Art, Steam Punk, Desert Nomad, Baroque, Goth, Leather, Uniform, Army dress, Plastic, Latex, Metal, Cross-Dress, Cyberpunk, Victorian, Pin Up, Fetish-Burlesque, Fetish Glamour…

For those in need of help with their transformation, we offer a styling station to turn you into a Post-Apocalyptic maniac
Please notice that Thuishaven is quite sandy so high heels are not recommended. There is plenty of parking space and lockers are available

Receive our News Letter: www.wasteland.nl